Is Your Home or Business Affected by Residual Energy?
If you feel something is off with your house, know of its problem history, or are having trouble selling it, you've come to the right place.
I'm Sheldon Norberg, author of Healing Houses. You probably never thought you'd be looking for my services, but if you need me, you'll be glad you found me. Over the last three decades I have worked to restore homes where death, divorce, violence and trauma left tangible energetic residue (and occasionally paranormal activity). 
In sculpting a framework to understand these situations, I've concluded that the bio-electric energy fields we generate during intense emotional states (Read it in Forbes), somehow linger, and affect sensitive inhabitants for years afterward. 
Many of my clients credit me with saving them, not only from their home energy situations, but from their fears of being seen as .. irrational. If you suspect you have a situation that would benefit from my attention, please keep reading, or go straight to Request a Consult.
Watch Sheldon interviewed on WVIT TV

Find More Videos, Press, Reviews and Testimonials above
First and foremost, our homes are essential to us. The investment in life energy to create a home is immense, and to move into one that it is full of someone else's emotional history can feel like an episode of Hoarders. Let me help.
From therapy suites to corporate boardrooms, our relationships are all driven by, and leave behind, energetic charges. Find out more about my work in offices, buildings, restaurants, and hospitals..
My work has proven extremely effective in expediting home sales and eliminating turnover in troubled rental properties. I have  worked discreetly with high end realtors, and can help you too.
"Sheldon has a unique intuitive skill set – the ability to detect and identify energy patterns held within a space. Along with this, he has formulated a process to shift aberrant energy patterns in order to induce clarity.
Some intuitives heal people–Sheldon heals houses."
Francesca McCartney, PhD
Founder, Academy of Intuition Medicine® & Energy Medicine University

Healing Houses
My Work as a Psychic House Cleaner
by Sheldon Norberg
Healing Houses details Sheldon Norberg's two decades of work on homes where death, disease, and traumas of prior owners left palpable feelings for the current residents to contend with, as well as rationally inexplicable phenomena, and occasionally, ghosts…
Healing Houses maps out a sophisticated metaphysical perspective and traces its development through case studies of dozens of the houses Norberg has worked in during his decades long psychic career. Whether discussing his training in the domain of Intuition Medicine®, giving a global overview of house healing practices, or offering house healing basics to his readers, Norberg's wry wit shines through. But it is his compassion, for his clients, their homes, and for those whose remnant energy has manifested in some unforeseeable way, that makes this book a healing odyssey.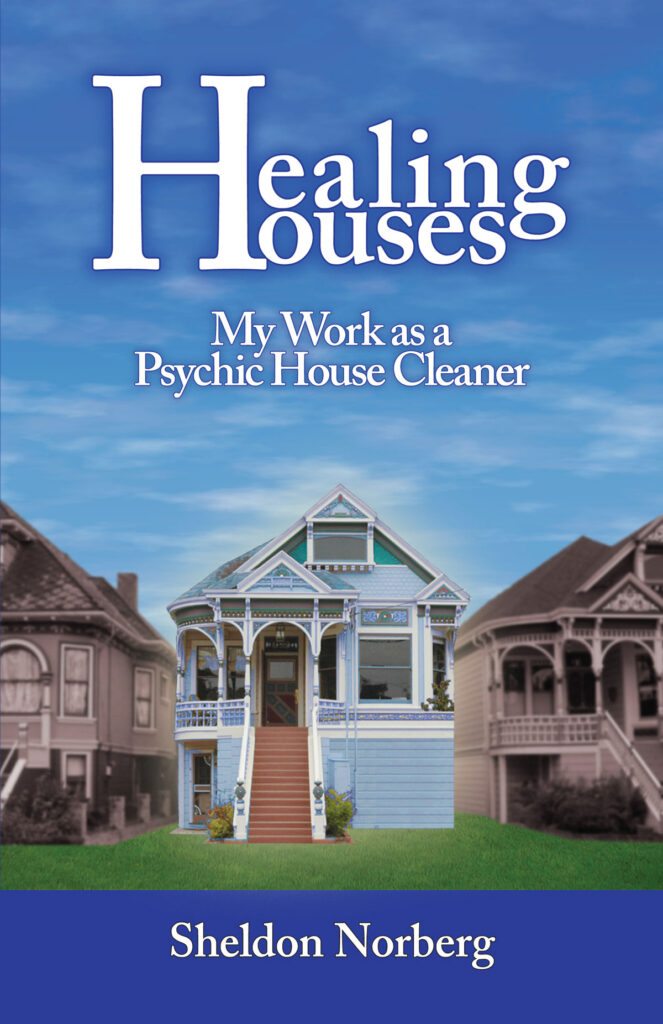 Death, divorce, violence, & trauma can create energetic residue that affects a home for years.
Meet Sheldon Norberg, author of Healing Houses, and schedule a clearing or consultation.
Sheldon offers his energetic clearing and renewal services for all types of dwellings, from apartments to estates to skyscrapers. His work not only improves spaces for living in, but has greatly expedites the sale of challenging properties. His clients agree, whether there is a problem or not, any time you move to a new home, it's time for a cleanse. 
Find out more here